La Palma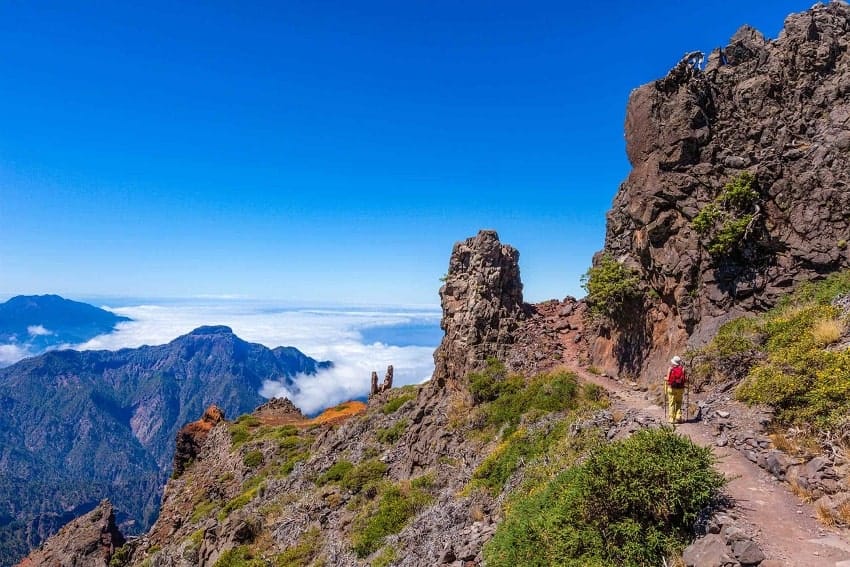 The island of La Palma offers breathtaking landscapes, remote beaches, imposing volcanoes, dense forests and incomparably starry skies.
With its 708 square kilometres, an elevation of 2.426m and its shape of a heart it is the most Western island of the Canary Island chain. Like every island in this archipelago, La Palma was created by volcanic activity. It is one of the youngest of the seven islands, dating back some 1.7 million years. The volcanic origin of La Palma is still clearly recognizable today, especially the southern part of the island with the dormant volcano Teneguía which last erupted in 1971, and offers interesting insights into its geological past.
The year-round mild climate with average temperatures between 18 and 27 degrees Celsius produce spring-summerlike weather as a result of the northeast trade winds.
This weather phenomenon is responsible for a pleasant subtropical climate and a rich green vegetation that prevails because of the humidity carried along in the trade winds. These moisture rich winds at certain times of the year also create a spectacular waterfall of clouds cascading down the central mountain faces and hence the nicknames Isla Verde – Green Island and Isla Bonita – Beautiful Island.
The unique geological structure of the island with its variety of vegetation zones and microclimates that are rarely found in the world on such a small area make this island a miniature universe. Each area of the island varies completely from another. In 1983 La Palma was declared a UNESCO biosphere reserve.
Another special feature of La Palma is the unique night sky. Due to its location in the Atlantic Ocean, sparse population, minimum light pollution and highest mountain peak Roque de los Muchachos 2.426m, the island was chosen as the location for one of the largest and modern observatories in the world.
The official population of the island is approximately 80,000 people. Traditional festivals such as the Bajada de la Virgen or Los Indianos carnival, famous far beyond the island's borders, bear witness to the zest for life of the local people (Palmeros). Not only the geographical location, but also the numerous immigrants from Central and South America show a variety of Hispanic influences in island life, cuisine and cultural.