El Hierro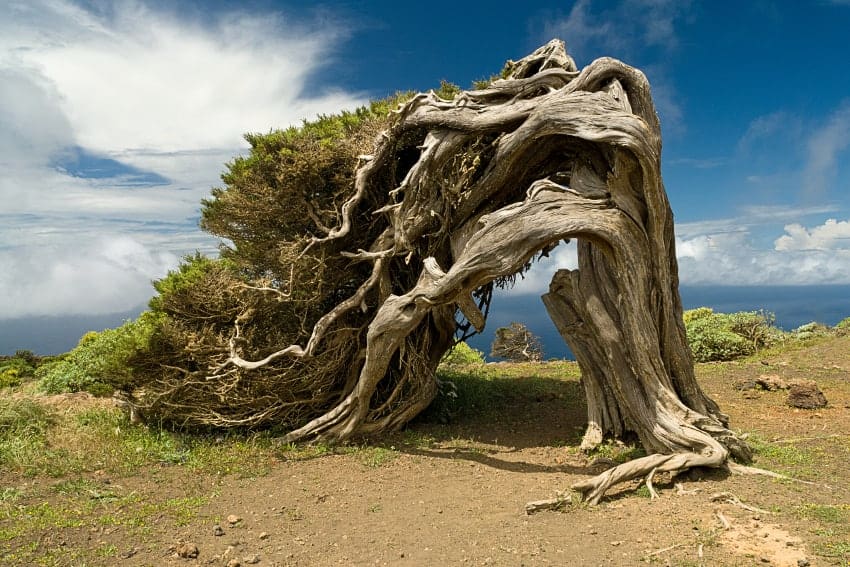 The island of El Hierro is the most western and smallest of the seven Canary Islands. The landscape is varied and unspoilt. Like every island of this archipelago, El Hierro owes its existence to volcanic activity, but is one of the youngest of the seven islands, with about 1.1 million years. The volcanic origin of El Hierro is still clearly visible today, especially the southern part of the island around the coastal village La Restinga offers interesting insights into the geological past.
The year-round mild climate with average temperatures between 15 and 27 degrees Celsius is primarily determined by the north-eastern trade wind. This weather phenomenon is responsible for the fact that on the island El Hierro subtropical climate prevails pleasantly and that also a rich vegetation thrives by the humidity carried along in the trade wind clouds.
In combination with the unique geological structure of the island, there is a variety of vegetation zones, such as pine and laurel forests, fertile fields and pastures, subtropical vegetation and fascinating volcanic areas with endemic succulents. Agriculture can be found in the northwestern part: orchards and vineyards as far as the eye can see.
Another special feature of El Hierros is the starry sky, which is particularly bright due to the clean air. Due to its location in the Atlantic Ocean, the relatively sparse population and the pristine landscape, El Hierro is considered a natural paradise. The highest elevation is the 1501 metre high Malpaso. The official population of the island is approximately 11,000 people spread over a total area of 269 square kilometres. Traditional festivals such as the Bajada de la Virgen de los Reyes or the modern Bimbache open ART Festival bear witness to the joie de vivre of the Herreños – as the inhabitants of El Hierro are still called.
This unique combination makes the Canary Island of El Hierro, completely untouched by mass tourism, an ideal holiday destination for people who want to rest during their holidays and enjoy nature.