Availability
The calendar is for your orientation! Always feel free to contact us directly! Personal advice is our strength!
General
The Villa Todoque is exactly where you'd want to spend all your vacations: in the sunny western part of the island of La Palma, close to the beach and with view of the ocean! It offers amenities such as a large private pool, internet access, a spacious interior with 1,600 sq ft of living space, and many places to lounge and relax around the house along with a significant amount of privacy! If you rent a car it can be conveniently stored in the villa's private garage.
Todoque, the small village where the villa is located, is the last "bastion" before Puerto Naos, and the vacation house itself is only about five minutes away from the beach. Another definite advantage of the villa is the privacy of both its pool area and the frontal terrace. The villa can also only be reached via a private road. 
To add to the fun, a ping-pong table is found next to the pool.
The villa's rooms are bright and large, and all rooms have access to the terrace. The master bedroom is equipped with an ensuite bathroom with shower as well as a large closet. The second bedroom can be found directly next to the second bathroom (with bathtub) and is also equipped with a large closet. The kitchen is integrated into the living room and is well-equipped.
The villa is surrounded by 27,000 sq ft of property, with many plants and fruit trees.
The Villa Todoque is our recommendation for those who want to enjoy the sun surrounded by comfort. Using the villa as a base, you can easily make day trips around the entire island. The vacation house is also perfect for those visiting La Palma for the first time and who would like to get to know this beautiful island!
The small village of Todoque is located in the municipality of La Palma in Los Llanos de Aridane and has around 1,400 inhabitants. Los Llanos de Aridane itself is the biggest city on the island, with a historical downtown area with numerous impressive facades. The "place to be" is, without a doubt, the "Plaza de España," with its many cafés, laurel trees, which are over 200 years old, and its landmark church, "Nuestra Señora de los Remedios." In Los Llanos, you can find several stores, restaurants, and supermarkets. There is also an emergency room in case of to take care of any sickness, accidents, or injuries sustained while on vacation.
Maximum occupancy
4 people + 1 child up to 2 year in cot
Minimum rental period
7 nights
Location
Todoque Altitude: 301m a.s.l. Plot: 2.500m² Living Space: 150m²
Check In / Check Out
15:00 h 10:00 h
Activities
Hiking, Biking, Swimming, Snorkeling, Scuba Diving, Boat Trips, Water Sports, Paragliding, Whale Watching, Observing the Stars, Museums, Zoo
Distances to Airport & Port
Airport: 37km Harbor: 37km
Distances to Shops & Restaurants
Shop: 2km Restaurant: 1km
Distance to Next Beach
Puerto Naos: 4km
Medical supplies
Health center (doctor): 2km
Payment / Cancellation
The prices are not binding and may vary.The deposit for this house is 20% of the house price. The deposit is to be paid by bank transfer without additional costs or by credit card or PayPal, for which a fee is charged. The remaining sum must be paid cash upon arrival.For the terms and conditions in case of cancellation, please refer to our
General Business Terms
. Cancellation free of charge is not possible! We recommend taking travel insurance!
Facilities
1 Bathroom En-Suite
2 Bathrooms
2 Double Bedrooms
4 Single Beds 90x200
Additional Cleaning Bookable
Baby Cot
Blender
Ceramic Hob 4 Hobs
Coffee Maker
Covered Terrace
Dishwasher
Electric Heating
Electric Kettle
Fridge / Freezer
Fruit Trees
Garage
Garden
Grill
Hair Dryer
High Chair
Internet - WiFi
Iron
Ironing board
Juicer
Living Room with Kitchen and Dining Room
Microwave
Outdoor Furniture
Oven
Pet on request
Private Swimming Pool
SAT-TV
Shower
Sun Umbrellas
Sunbeds
Table Tennis
Toaster
Washing Machine
Weekly Linen & Towel Change
Internet
Free WiFi
Additional information
Pool size 7,50x3,50x1,50m
Accommodation review scores and score breakdown
9.8
/ 10
Based on 2 reviews
Location

10

Cleanliness

9

Comfort

10

Sleep quality

10

Value for money

10

Services by CanaryCompany

10
Guest reviews
AndreaTS
2018-04-13



Klimatisch günstige Lage, fußläufig zu zwei guten Restaurants, gute Ausstattung, tolle Terassen und Poolbereich, schön möbliert, nicht weit vom schönen Strand in Puerto Naos entfernt

SusyBerre
2017-10-28



Stayed at Villa Todoque in October 2017 and it was absolutely one of the best experiences we had on La Palma. The house is at a perfect location, very private, fantastic pool and fully equipped ! The beds were a delight ! For us nothing has to be improved ! Also the welcome at the house by Pablo was very pleasing ! We certainly will contact CanaryCompany again in the future, because they also handled everything very professional ! Paul and Susy from Belgium
Holiday Homes La Palma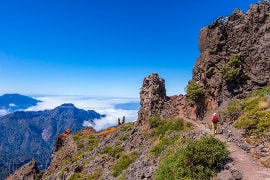 La Palma is the northwestern-most island of the Canaries and also the most forested, with tree coverage of about 40% – the reason it's also known as 'Isla Verde' or 'La Isla Bonita.' Like all of the Canary Islands, La Palma is also a volcanic formation. The highest point is the summit of the Roque de los Muchachoas, at a height of 2.426m above sea level. Worldwide, this is the highest elevation in relation to surface area. The island of La Palma remains largely untouched by mass tourism and so continues to charm with its native character.
Pleasant temperatures year-round lure many vacationers to the Canaries:
| | | | | | |
| --- | --- | --- | --- | --- | --- |
| | max. °C | min. °C | Hours sunlight | Water °C | Rainy days |
| Jan | 20,0 | 13,0 | 5 | 18 | 9 |
| Feb | 21,0 | 13,0 | 6 | 18 | 6 |
| Mar | 22,0 | 15,0 | 7 | 18 | 5 |
| Apr | 22,0 | 16,0 | 8 | 19 | 3 |
| May | 23,0 | 17,0 | 9 | 20 | 1 |
| Jun | 25,0 | 18,0 | 10 | 21 | 1 |
| Jul | 26,0 | 19,0 | 10 | 22 | 1 |
| Aug | 27,0 | 20,0 | 9 | 22 | 0 |
| Sep | 26,0 | 20,0 | 8 | 23 | 1 |
| Oct | 26,0 | 19,0 | 7 | 22 | 4 |
| Nov | 24,0 | 18,0 | 6 | 21 | 9 |
| Dec | 23,0 | 15,0 | 5 | 20 | 10 |
Nature & Outdoor
The "Roque de los Muchachos," La Palma's highest point, is 2.426m high. In relation to the island's area - just 702km² - there is no higher point anywhere else in the world. The way to the peak traverses the most diverse climatic zones, from subtropical to alpine. From the top, the view stretches to Gran Canaria, when the weather is clear. The "El Time" Mirador above Los Llanos, offers a fascinating vista over the Aridane Valley. There's also a café and restaurant. Order a "Café Barraquito" and enjoy the view! La Palma is rich with gorgeous natural scenery. One of the most well-known is the Caldera de Taburiente national park. It's also the site of one of the most well-known hikes on La Palma. For those for whom hiking holds little appeal: The "La Cumbrecita" viewing area, which leads from the visitor centre in El Paso (be advised: Cumbrecita is only accessible by permission! Obtain it at the visitor's centre) over a paved path to the summit is the spot for the best view of the Caldera de Taburiente. The most popular swimming hole, "Charco Azul," beneath Los Sauces on the island's northwest, beckons swimmers into a truly welcoming scene. The most visited beach on La Palma is found in Puerto Naos with a handsomely situated promenade. The idyllic sandy beaches of "Charco Verde," about 3km south of Puerto Naos, is one of the most popular on the island. The "Salinas de Fuencaliente," on La Palma's southern tip, grants visitors an enlightening glimpse into the sea-salt extraction process with an array of compelling educational tidbits.
Culture & Sports
With respect to culture, La Palma is certainly of interest, whether at the museum in Santa Cruz de La Palma, the specialized archaeological museum in Los Llanos, the wine museum in Las Manchas, or the silk museum in El Paso. Every one of these is worth a detour! La Palma is a fairy-tale island for hiking, one that'll make any hiker's heart sing. One of the loveliest trails is the "Ruta de los Volcánes," which travels the edge of the Cumbre volcanic mountain, with spectacular views over the southern section of the island and the neighbouring islands of Teneriffa, La Gomera, and El Hierro. This is a hike for fair weather, since, when the clouds gather or the fog settles, they veil the view completely. The route begins at the El Pilar rest spot and ends 19km later, after ascending 600 and descending 1.300m, in Los Canarios. There are many hikes of all levels, across the island.
Cities & Nightlife
The capital of Santa Cruz de La Palma, alongside the largest and most populous city of Los Llanos de Adriane, offer a host of opportunities, with a palette that encompasses everything from shopping to bars, good restaurants, and dance club night life. Markets are a great place to find fresh local products and learn a little about the locals' commercial culture. There are weekly markets in Puntagorda, El Paso, Mazo, Santa Cruz de La Palma, or Los Llanos de Adriane. Probably the best known festival here, the mighty Bajada de la Virgin, only takes place every 5 years. All of La Palma celebrates the island's patron saint for a period of about two months. This truly great festival owes its origins to the drought of 1676. A celebratory procession was organized as a plea for help and involved carrying the patron saint, Benahoares, to Santa Cruz de La Palma. Success was immediate, and it started to rain.
---
Read more