Availability
Der Belegungskalender dient zu Ihrer Orientierung! Gern können Sie immer direkt bei uns anfragen! Die persönliche Beratung ist unsere Stärke!
General
Apartment Tazacorte La Palma Mar y Musica
Das Apartment Tazacorte La Palma Mar y Musica ist ein stilvolles, geräumiges Strand-Apartment direkt an der Playa von Puerto de Tazacorte.
Das Ferienapartment befindet sich im sonnenverwöhnten Puerto de Tazacorte auf der vom Klima begünstigten Westseite der Kanareninsel La Palma.
Das Apartment Mar y Musica liegt in einem gepflegten Gebäudeensemble, das architektonisch durch seine Art-Deco Elemente besticht. Die Ausrichtung der Wohnung gen Osten erlaubt einen einzigartigen Bergblick in die atemberaubende Landschaft der Caldera. In den heißen Sommermonaten bieten die hellen und freundlichen Räumlichkeiten durch die Verbindung zum Patio ein angenehm luftiges Innenklima ohne direkte Sonneneinstrahlung in den Mittagsstunden.
In dem zum Teil mit indischen Antikmöbeln sehr individuell und stilvoll eingerichteten Strand-Apartment verbinden sich hispanische Gestaltungselemente mit erlesenen Holzarbeiten asiatischer Herkunft. Einige Originalwerke zeitgenössischer Maler werten das Interieur farblich und stilecht auf.  Frische und freundliche Farben bestimmen das Ambiente und spiegeln so die besondere Intensität der Elemente – Feuer – Wasser – Erde – Luft – der Insel wieder.
Ein besonderes Ausstattungshighlight ist das Stage-Piano Yamaha P90, welches sowohl Hobbymusikern als auch echten Musikprofis erlaubt, einen traumhaften Strandurlaub mit der Leidenschaft des Musizierens zu verbinden – Mar y Musica eben!
Ein grosszügiges Wohn- Esszimmer mit einem wunderschönen Massivholz-Esstisch, der bequem 5 Personen Platz bietet, bildet das behagliche Herz der Ferienwohnung. Der separaten Küche angegliedert findet sich ein kleiner Patio samt Aussendusche. Die 3 Schlafzimmer, 2 davon mit Doppelbetten, sind ebenfalls wunderschön möbiliert und führen die gekonnte Vermählung asiatischer und europäischer Stilelemente der anderen Räume in eindrucksvoller Weise fort – ein stylisches Refugium in bester Strandlage.
Sonne satt, nur 100 Meter bis zum Sandstrand von Tazacorte, etliche Cafes und Restaurants sowie ein kleiner Supermarkt, eine Apotheke etc. finden sich fussläufig in unmittelbarer Nähe. Unter Feinschmeckern und Fischliebhabern geht das Gerücht um, in Puerto de Tazacorte kann man den besten Fisch der gesamten Insel La Palma essen.
Durch seine geschützte und nach Westen offene Lage am Ausgang des Barranco de las Angustias ist Tazacorte der Ort mit den meisten Sonnenscheinstunden pro Jahr in ganz Europa. Das Klima ist ohne all zu grosse Schwankungen sehr ausgeglichen und lädt somit ganzjährig Badefreunde und Sonnenanbeter ein!
Von hier aus werden auch unvergessliche Bootstouren beispielsweise zur Delfin- oder Walbeobachtung oder als romantische Sonnenuntergangsfahrten angeboten. Ausserdem führen verschiedene Wanderwege ebenfalls durch den Ort.
Maximum occupancy
5 Personen
Minimum rental period
7 Tage
Location
Puerto de Tazacorte Höhe: 10m ü.d.M. Grundstück: 0m² Wohnfläche: 85 m²
Check In / Check Out
15:00 h 10:00 h
Activities
Bergwandern, Radfahren, Schwimmen, Schnorcheln, Tauchen, Bootsausflüge, Wassersport, Gleitschirmfliegen, Whale Watching, Sternenbeobachtung, Museen, Zoo
We recommend this house especially for ...
Wassersportler, Strandliebhaber, Taucher, Wanderfreunde
Distances to Airport & Port
Flughafen: 44km Hafen: 45km
Distances to Shops & Restaurants
Einkaufen: 100m Restaurant: 50 m
Distance to Next Beach
Nächster Strand: 100m
Medical supplies
Gesundheitszentrum (Arzt): 50 m
Payment / Cancellation
Die Preise sind unverbindlich und können sich verändern! Die Anzahlung für diese Unterkunft beträgt 20% auf den Hauspreis, zahlbar spesenfrei per Banküberweisung). Die Restzahlung erfolgt bar vor Ort. Eine Übersicht über die Kosten im Falle einer Stornierung finden Sie in unseren
AGB
. Eine kostenfreie Stornierung ist nicht möglich. Daher empfehlen wir dringend den Abschluss einer Reiserücktrittsversicherung!
Internet
Wlan gratis
Additional information
Nichtraucherwohnung Keine Haustiere Für gehbehinderte Personen nicht geeignet Parkmöglichkeiten vorm Haus Gemeinschaftsdachterrase mit Meer- und Bergblick Rabatte für Langzeitaufenthalte. Bitte sprechen Sie uns an. Meeresrauschen bei Nacht Klarer Sternenhimmel bei Nacht
We are sorry, there are no reviews yet for this accommodation.
Holiday Homes La Palma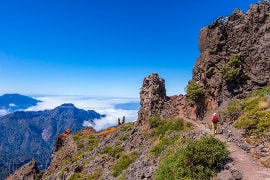 La Palma is the northwestern-most island of the Canaries and also the most forested, with tree coverage of about 40% – the reason it's also known as 'Isla Verde' or 'La Isla Bonita.' Like all of the Canary Islands, La Palma is also a volcanic formation. The highest point is the summit of the Roque de los Muchachoas, at a height of 2.426m above sea level. Worldwide, this is the highest elevation in relation to surface area. The island of La Palma remains largely untouched by mass tourism and so continues to charm with its native character.
Pleasant temperatures year-round lure many vacationers to the Canaries:
| | | | | | |
| --- | --- | --- | --- | --- | --- |
| | max. °C | min. °C | Hours sunlight | Water °C | Rainy days |
| Jan | 20,0 | 13,0 | 5 | 18 | 9 |
| Feb | 21,0 | 13,0 | 6 | 18 | 6 |
| Mar | 22,0 | 15,0 | 7 | 18 | 5 |
| Apr | 22,0 | 16,0 | 8 | 19 | 3 |
| May | 23,0 | 17,0 | 9 | 20 | 1 |
| Jun | 25,0 | 18,0 | 10 | 21 | 1 |
| Jul | 26,0 | 19,0 | 10 | 22 | 1 |
| Aug | 27,0 | 20,0 | 9 | 22 | 0 |
| Sep | 26,0 | 20,0 | 8 | 23 | 1 |
| Oct | 26,0 | 19,0 | 7 | 22 | 4 |
| Nov | 24,0 | 18,0 | 6 | 21 | 9 |
| Dec | 23,0 | 15,0 | 5 | 20 | 10 |
Nature & Outdoor
The "Roque de los Muchachos," La Palma's highest point, is 2.426m high. In relation to the island's area - just 702km² - there is no higher point anywhere else in the world. The way to the peak traverses the most diverse climatic zones, from subtropical to alpine. From the top, the view stretches to Gran Canaria, when the weather is clear. The "El Time" Mirador above Los Llanos, offers a fascinating vista over the Aridane Valley. There's also a café and restaurant. Order a "Café Barraquito" and enjoy the view! La Palma is rich with gorgeous natural scenery. One of the most well-known is the Caldera de Taburiente national park. It's also the site of one of the most well-known hikes on La Palma. For those for whom hiking holds little appeal: The "La Cumbrecita" viewing area, which leads from the visitor centre in El Paso (be advised: Cumbrecita is only accessible by permission! Obtain it at the visitor's centre) over a paved path to the summit is the spot for the best view of the Caldera de Taburiente. The most popular swimming hole, "Charco Azul," beneath Los Sauces on the island's northwest, beckons swimmers into a truly welcoming scene. The most visited beach on La Palma is found in Puerto Naos with a handsomely situated promenade. The idyllic sandy beaches of "Charco Verde," about 3km south of Puerto Naos, is one of the most popular on the island. The "Salinas de Fuencaliente," on La Palma's southern tip, grants visitors an enlightening glimpse into the sea-salt extraction process with an array of compelling educational tidbits.
Culture & Sports
With respect to culture, La Palma is certainly of interest, whether at the museum in Santa Cruz de La Palma, the specialized archaeological museum in Los Llanos, the wine museum in Las Manchas, or the silk museum in El Paso. Every one of these is worth a detour! La Palma is a fairy-tale island for hiking, one that'll make any hiker's heart sing. One of the loveliest trails is the "Ruta de los Volcánes," which travels the edge of the Cumbre volcanic mountain, with spectacular views over the southern section of the island and the neighbouring islands of Teneriffa, La Gomera, and El Hierro. This is a hike for fair weather, since, when the clouds gather or the fog settles, they veil the view completely. The route begins at the El Pilar rest spot and ends 19km later, after ascending 600 and descending 1.300m, in Los Canarios. There are many hikes of all levels, across the island.
Cities & Nightlife
The capital of Santa Cruz de La Palma, alongside the largest and most populous city of Los Llanos de Adriane, offer a host of opportunities, with a palette that encompasses everything from shopping to bars, good restaurants, and dance club night life. Markets are a great place to find fresh local products and learn a little about the locals' commercial culture. There are weekly markets in Puntagorda, El Paso, Mazo, Santa Cruz de La Palma, or Los Llanos de Adriane. Probably the best known festival here, the mighty Bajada de la Virgin, only takes place every 5 years. All of La Palma celebrates the island's patron saint for a period of about two months. This truly great festival owes its origins to the drought of 1676. A celebratory procession was organized as a plea for help and involved carrying the patron saint, Benahoares, to Santa Cruz de La Palma. Success was immediate, and it started to rain.
---
Read more